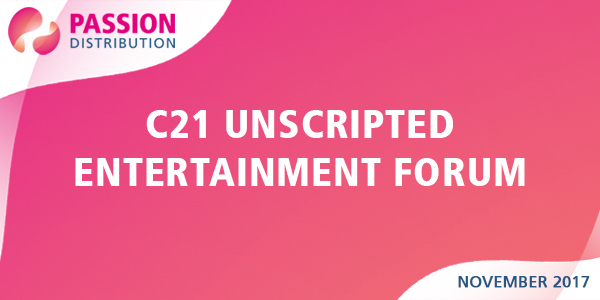 PASSION DISTRIBUTION SPONSORS C21 UNSCRIPTED ENTERTAINMENT FORUM 2017
Passion Distribution is a proud sponsor of the C21 Content London Unscripted Entertainment Forum on Monday 27th November.
London based Passion Distribution specialises in popular quality programming and formats in genres including Factual Entertainment, Reality, Documentaries, Lifestyle, Drama, Comedy and Game-shows. International successes include RuPaul's Drag Race, Dynamo: Magician Impossible, An Idiot Abroad, Big Fat Gypsy Weddings, Paradise Hotel, Make You Laugh Out Loud, Charlie Luxton's Homes By The Sea, Strangest Weather On Earth, Dr Christian Will See You Now and the Unreported World documentary series. Passion Distribution works with some of the most talented producers in the UK including AMOS Pictures, Voltage TV, Zig Zag Productions, Sundog Pictures and also proudly distributes content from all Tinopolis Group companies including A. Smith & Co. Productions, Daybreak Pictures, Firecracker Films, Mentorn Media, Magical Elves, and Pioneer Productions.


Contact our team if you would like to schedule a meeting at the event:


All news